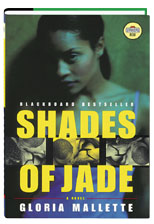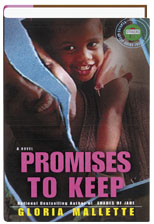 Interview with Gloria Mallette

SC: When did you decide you wanted to write?
GM: I believe I was around 25 when I decided that I wanted to be a writer. I had already written my first manuscript but it wasn't until I was 25 that thought I might want to do it for a living.
SC: How many novels in all have you written?
GM: I have now, with Distant Lover, six titles in print, one of which is self published.
SC: Do you have a favorite?
GM: I guess for me, Weeping Willows Dance will always be my favorite because that's my grandmother's story and while writing it, I got to know my mother who died when I was two and a half.
SC: How long did it take you to write your first novel?
GM:My first published novel was written in about three months.
SC: Where do you get your inspiration for your stories?
GM: Inspiration for my stories come from things I hear people say and from the news. However, once I begin to write, the characters take on a life of their own and write the story as they want it told.
SC: Are the characters based on real people?
GM:Other than my grandmother's story, all of my characters are not based in fact on anyone I know.
SC: After writing your first novel, did you self-publish?? If so, how was that experience?
GM: I did self publish my second novel, Shades of Jade, because I couldn't get published to save my life. No one was interested. The experience was enlightening, educational, and most definitely rewarding. Anytime one goes out on a limb to follow one's dream and is fortunate enough to see that dream a reality, the experience is always rewarding as well as exhilarating.
SC: Do you plan to write sequels to any of your novels?
GM: At this point, sequels are not in consideration, but I'd never say never.
SC: What feedback have you received from fans?
GM: The feedback from readers has been phenomenal. Readers have been very supportive and encouraging, especially since I'm not writing the most popular material right now.
SC: What authors do you admire? Did one of them inspire you?
GM: I wouldn't say that I admire any particular author, just that I tip my hat to all who've let no one tell them that they can't write. From each and every author out there, something can be learned from their experience.
SC: Is writing your only passion?
GM: Other than my son and husband, writing, the creative process has become a passion.
SC: Where do you see yourself in 5 years?
GM: Good question. H'm. In five years, I guess I'd like to see myself still writing and being published. Say a prayer for me.
SC: What advice would you give aspiring authors?
GM: To any aspiring writer out there, I would say, go for it and let no one tell you that you can't. Then do your homework. Read books on writing and manuscript submission and preparation. Get your manuscript edited---we don't all write as well as we think we do, me included. And finally, once your book is published, work your behinds off promoting it.
SC: What would you like readers to learn from your stories?
GM: If just one reader takes anything from any one of my tales, I want him/her to come away feeling something, anything---anger, sadness, happiness, joy. I want no one to finish reading one of my titles and feel it was a waste of time. Feel something.
SC:Are you working on another novel? What is it about?
GM: Yes, I'm working on a book about a man who changes partners like most women change shoes. The twist here, is the lesson he's taught by his grandfather in the afterlife.
SC:Where can people purchase your books? Do you have a website?
GM: My books can be purchased from African American bookstores, chain stores, and at online booksites.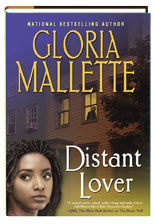 DISTANT LOVER
By Gloria Mallette
Synopsis
Thirty-seven year old Tandi Crawford feels trapped in a sexless, loveless marriage to a husband, Jared, whom she can no longer trust since his affair three years before. She finds no escape in her work as a part-time real estate broker or in her role as mother to her young son, MJ. Tandi begins to fantasize about a boy, Brent Rodgers; she went with when she was seventeen for one unforgettable summer. While she finds herself comparing her husband to Brent and wishing that Brent had been the man she married, she hasn't seen Brent in more than twenty years, and doesn't know where to look for him. If only she could find him, her life would be so much better –she thinks. She turns a blind eye to the good man that her husband is, and a deaf ear to his pleas to work on their marriage.
Late one night when Tandi can't stomach being with Jared a minute longer, she takes their son and flees. With no where specific in mind, Tandi ends up on her father's doorstep – which is a dark, dusty house she vowed to never live in again. Her homecoming is as sour and grim as her father's face. Her father, Glenn Belson, Sr., is a bitter, crotchety old man, who has never shown Tandi an ounce of love. He is distant and quite cruel to Tandi, but not to her brother, Glenn Jr., who disagrees with Tandi's assessment of their father. Tandi feels that her father holds secrets about her mother, which he denies. Her father tells her that her mother died when she was three, but he has no pictures, no papers, no stories, no evidence of her existence. Glenn Belson, Sr. is in fact, quite brusque when Tandi brings up the subject of her mother. There are secrets that once revealed will forever change Tandi's life.
Realizing that she cannot stay with her father, Tandi begins looking for an apartment for her and her son, who hates being around his grandfather. Tandi is forced to let MJ go back home to be with his father, Jared, to spare him the stress of living in his grandfather's house. But before Tandi herself can once again escape her father's house, the dislike she and her father have for each other intensifies and her father suffers a major stroke and is hospitalized. Tandi's brother then pressures her to stay to look after their father when he returns home. Certainly not a picnic.
Away from her son, stuck with a father she feels hates her, Tandi turns to her best friend, Evonne, for support. What she doesn't realize is that Evonne wants her husband, Jared. Evonne manipulates Tandi's words and tells Jared lies to try to get him to forget Tandi, all the while trying to insinuate herself into Jared's life. The lies that Evonne brings back to Tandi about Jared reaffirms Tandi's quest to divorce Jared.
Then as fate would have it, Tandi bumps into an old girl friend from high school who tells her that she's seen Brent Rodgers. Getting Brent's number, Tandi calls him and the fantasy she long-harbored becomes her reality. In the midst of all the stress that fills her days, Tandi's nights with Brent are sexually fulfilling and every bit as she imagined. Brent is the man she envisions spending the rest of her life with, but again, she has not a clue as to whom she is dealing. Brent isn't all that he appears. He is a drug user, he is eventually unemployed, he is trice married, and he is a deadbeat father.
As all Tandi's relationships intensify, so does her need for answers to the questions that have haunted her for so long –from the enigma of her mother's demise and her father's emotional distance, to her husband's coldness, and her lover's unquenchable heat. Each step closer to the truth will reveal its own secret –secrets that will forever change Tandi's life.
*provided by Marlive H.
Grits.com
PRESS RELEASE
Contact: aNN Brown
THE GRITS COM LITERARY SERVICES
214-731-1969
________________________________________________________________
A sensational new contemporary novel about love lost, infidelity and family . . .
Distant Lover
By
Gloria Mallette
______________________________________________________
Just as Marvin Gaye's soulful baritone bespoke of a "Distant Lover" and touched something innermost, author Gloria Mallette uses her skillful storyteller's pen to take readers on a similar journey deep into the human spirit. Distant Lover (Dafina/Kensington Publishing, 075820471X, $24.00), Ms. Mallette's sixth novel to be released October 2004, captures the life of an emotionally incomplete woman and exposes a family secret so delicate that it alters the description of what is reconcilable and what is unforgivable.
A motherless child since her mother's death when she was three years old, Tandi Crawford survives the hostile indifference of a heartless father who harbored secrets about her mother and scoffed at any desire Tandi had to find out who her mother was. As soon as she was of age, Tandi escaped her father's home, vowing never to return. Now eighteen years later, an emotionally exhausted Tandi, who is still struggling to rise above her father's indifference, is also reeling from her own personal issues--her husband's affair. Because of her husband's indiscretions, the last three years of their fifteen-year marriage have been loveless and sexless, and has Tandi fantasizing about one unforgettable summer with her first love when she was seventeen years old and love was an illusion. Overwhelmed with the failure of her marriage, Tandi flees in the night with her young son in tow, and ends up back on the very doorstep she vowed never to return to—her father's home. Will the Distant Lover Tandi seek fulfill her fantasy, answer the mystery of her existence, and finally heal her spirit?
Once again, Ms. Mallette displays her immeasurable talent to tell a gritty human drama that is more real than fiction and more believable than not. Distant Lover is a mesmerizing story of secrets whose revelations threaten to consume an emotional anemic heroine. It is a story about how betrayal can shatter dreams and how forgiveness can be too long in coming. Captivating, suspenseful and solidly written, this novel gives a skeptical but empathetic look at 'familial' love.
Gloria Mallette has been featured in The New York Daily News (December 2000), USA Today (September 2001) and has had her novella, Come Tomorrow, featured on the USAToday.com Open Book library (October 2001). Since the initial self-publication of Shades of Jade by Ms. Mallette in 2000 and later republished by Strivers Row (Random House) in 2001, this book has made several best-sellers lists including: Black Board, Essence Magazine, The Dallas Morning News, The Washington Post/Washington is Also Reading listing and Upscale Magazine. Other titles in Ms. Mallette's repertoire includes: The Honey Well, Promises to Keep, Weeping Willows Dance, Shades of Jade and When We Practice to Deceive.
Gloria Mallette is available for interviews, book clubs, mentoring programs, speeches and panel discussions. Please visit her website www.gloriamallette.com or contact her agent, Stacy Glick, 212-627-9100, ext. 22, for more information.
Distant Lover
By Gloria Mallette
Dafina/Kensington Publishing
Fiction; $24.00US; ISBN: 075820471X
On-sale October 5, 2004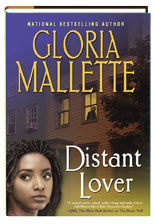 Read a Good Book Today!!