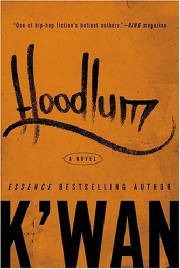 Title: Hoodlum
Author: K'wan
Publisher: St Martin's Press
Release Date: August 2005
Reviewed by: Shay C
PeoplewholoveGoodBooks
Hoodlum by K'wan proves once again why he is one of urban drama's hottest authors! Shai Clark is member of one of the most notorious crime families , yet his father and brother don't want him to have any part of the "life". Shai decides to follow his dream of playing basketball until he is suspended from college and has to return home. His father "Poppa", as they call him has decided to retire , invest in "legit" business, and turn the business over to his oldest son Tommy. Only Tommy has a quick temper and a quick trigger finger which causes him to act now and ask questions later. When Tommy decides to stop dealing with the Italians and the Mob, ill feelings are born and plans to murder both him and Poppa are set into motion. When the smoke clears, Poppa is dead and Tommy paralyzed in the hospital, fighting for his life. Shai has no choice but to step up to the plate and take over the empire that is now in total chaos. War is declared and all hell breaks loose. It's do or die time as Shai becomes the man that his father never wanted him to be.

Hoodlum is like the hip-hop, urban version of "The Godfather", it pulls you in and doesn't let go until the edge of the seat, heart-stopping ending. It is a gritty, graphic, fast-paced novel. This book is a must-read! I give it 4 stars! Reviewed by Shay C of PeoplewholoveGoodBooks.

Title: Street Dreams
Author: K'wan
Publisher: St Martin's Press
Release Date: September 2004
320 Pages
Reviewed by Shay C
PeoplewholoveGoodBooks
Street Dreams was the first book I read by K'wan but it certainly won't be the last. Darius aka Rio is trying to leave the street life behind but it won't let him. He finds love in his soulmate Trinity but she has a secret that will ultimately destroy them both. When that secret comes out and Rio is forced to go back to the life he is trying so hard to leave behind.
Meanwhile the "haters" are trying to bring Rio down. Rio tries to keep a cool head and maintain peace and order but after Trinity is kidnapped, all hell truly breaks loose. The story ends in a way that you are unprepared for.
Street Dreams is a must-read!!
I give it 4 stars!!!