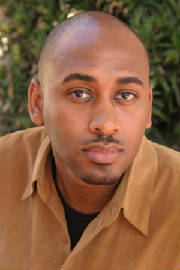 Meet Up and Coming Author Frederick Smith,
Author of the debut novel "Down for Whatever"
PWLGB: When did you decide you wanted to write?

FS: "I have been writing since I was in third grade. I always entered
writing contests, submitted short stories to anyone who would take
them, edited my high school and college newspapers, and wrote for TV,
radio, and print organizations before going back to grad school. After
all that professional and academic writing, and writing tons of memos
and reports at work, I wanted a break. And that break was to dabble in
fiction writing. That was in September 2001, when I decided to take my
writing aspirations seriously and to focus on my craft and goals."

PWLGB: How many novels in all have you written?

FS: "DOWN FOR WHATEVER" is my first and only novel. I have always had ideas
for novels, even dabbled with some character outlines in the past, but
didn't feel personally or professionally prepared to do a good job
with those ideas. I've always been a good reader, meaning I could tell
good writing from something hastily thrown together, but it wasn't
until I started taking fiction classes, joining writer groups, and
such, that I felt confident in calling myself a good writer.

PWLGB: How long did it take you to write your first novel?

FS: "It took about a year to write the first draft of DOWN FOR WHATEVER.
But it took another year of getting critiqued by fellow writers and
friends who read, using that feedback to strenghten the story, and
re-writing before I considered the novel done."

PWLGB: Where do you get your inspiration for your stories?

FS: "I love to observe people, listen to their conversations -- how they
talk, what they're talking about, and I also think what we consider
"regular" everyday events and people make good stories. I grew up in a
black working class/middle class neighborhood in Detroit, and in
observing my neighbors, classmates and family, felt these were
interesting lives we were all leading-- and that we didn't have to
make the 6 o'clock news or make spectacles or stereotypes of ourselves
to be interesting. Living in L.A., and experiencing the rich diversity
of ethnicity, class, sexual orientation, citizen status, all that, you
can't help but see how ordinary, everyday experiences make the best
stories. Ordinary people thrown into fictional situations help to
inspire my characters and stories."

PWLGB: What made you decide to write a story like DOWN FOR WHATEVER?

FS: "It actually started out as a class project -- a short story -- for a
fiction class I was taking at the UCLA Extension Writers Program. My
teacher, Kerry Madden, loved the story -- which I think is like
chapter six in the novel -- and wanted to know more. She asked a lot
of "what if?" questions each week that, in her beautiful way of
teaching, challenged me to dig deeper and eventually expand this short
story into a novel. But the writing aside, in terms of the story, I
wanted to write a universal story with characters who experience and
live life in their own way. The main characters in this novel happen
to be black, Latino, gay, straight, bi, educated, non-educated,
serious, culturally empowered, and all living in L.A."

PWLGB: Would you tell us about the story?

FS: "DOWN FOR WHATEVER" is a black and Latino 'Queer as Folk' meets 'Sex
and The City' that follows the lives of four friends, Keith Hemmings,
Rafael Dominguez, Tommie Jordan, and Marco Antonio Vega, who all ended
up in L.A. for different reasons and via different roads. They're
smart, successful in their own way, people of color, who happen to be
gay or bisexual. And they're dealing with their lives, loves, careers,
hopes, and dreams as most people do. I think the story honors, quite
beautifully, the Latino and African American heritage of L.A., gay and
lesbian people of color, and the cultural intersections and
interactions that happen in L.A. on a day-to-day basis. It's also a
fun story, full of romance, drama, and I think everyone will learn
something about L.A., the people in their lives who are gay or
lesbian, and about how these communities are more alike than they are
unalike.

PWLGB: After writing your first novel, did you self-publish? What was that
experience like?

FS: "I didn't self-publish, but totally look up to those who start their
literary careers that way. I know how hard it is for stories by and
about people considered "different" -- whether that's ethnicity,
ability, orientation, or class -- to be published or considered worthy
of mainstream acceptance, and why self-publishing is a way to get your
work out there. But my road to publication was pretty standard or
old-fashioned. After I wrote and revised the manuscript, I sent it
out, got rejected by tons of agents ( I mean DOZENS!!!), and then
found an agent, Nicholas Roman Lewis, who started his process. But
then totally out of the blue, a writer friend, Denise Hamilton,
mentioned me and my work at an event. The person who eventually signed
and became my editor, John Scognamiglio, inquired about me, e-mailed
me, requested the manuscript, and within two weeks he made an offer. I
was at work when I got the call. It was so cool and so funny... all
this work trying to get in the front door, and the side door opened so
quickly and easily."

PWLGB: What feedback have you heard from fans?

FS: "All positive and all smiles. Sometimes it freaks me out, because it's
your work, your baby, and you know it's good, but then you wonder. I
especially hear from younger people, like in their 20s and 30s, from
all walks of life and who traditionally don't read or buy books but
want to see their or their friends' lives in fiction, that they think
it's cool. I'm like, "Cool, right on, dig it." Young people are so
open-minded these days and will read something that interests them and
reflects their thought processes. But I hear a lot of compliments:
it's SO funny, it's SO L.A., it's SO true of the Latino scene or Black
scene, it's SO true of the gay, church, or entertainment scene, it's
SO thought provoking. I'm sure these are all "Blue State" people with
equally progressive minds, who knows? I'm sure the "Red Staters" with
their perspectives will have their reactions, lol. But I didn't write
this novel looking for approval or acceptance or trying to convince
folks to appreciate and accept people. If it does, great. But for the
audience who chooses to buy and read, I've heard great things. All I
hope is to make it worth their money, time, and effort to purchase and
read by writing the best story possible I can."

PWLGB: What authors do you admire? Did one of them inspire you?

FS: "So glad you asked... I love, love, LOVE J. California Cooper. She's
my absolute favorite writer and storyteller. I met her once at a
signing in San Francisco, and she made me laugh with stories of a
young man who used to court her, whose name was Fred. Very cool
person, but I think she spins the best stories, gives you life
lessons, and makes you think. Other contemporary fiction writers I
love and read regularly are Tayari Jones, Eric Jerome Dickey, Terry
McMillan, Lorrie Moore, Jervey Tervalon, Alisa Valdez Rodriguez, E.
Lynn Harris, Erica Turnipseed, and Alice Munro. Of course I love the
veterans and the folks we ALL look up to like Toni Morrison, Nikki
Giovanni, James Baldwin and such. But I also like non-fiction writers
like Keith Boykin, Jasmyne Cannick, Michael Moore, and bell hooks."

PWLGB: Is writing your only passion?

FS: "No, but it's pretty important to me. I'm up writing before work --
yes, I keep a day job -- from 5 - 7 in the morning, and then before I
go to sleep from 10 to midnight. But in between than, I'm working with
student organizations, student activists, planning cultural events in
L.A., always thinking about my goals and how I'm going to get there,
going to the gym daily because I don't want to waste my membership or
Weight Watchers money (lol), calling my parents and sister back in the
midwest, conference calling my agent or editor, catching up with the
shows on TIVO, and trying to maintain some sense of a social life. So
I do a lot in a day. Always running, staying active, and like Jill
Scott says, living my life like it's golden. Weekends too. Kinda goes
back to when I was a kid. I'm focused, try to do everything well and
organized and professionally, but I generally keep my passions and
goals to myself and just do them. Too many people say, "I'm gonna," or
"I should," and I used to be one of them. Now I just try to do what I
want to achieve my goals and passions, and let the rewards afterwards
speak for themselves."

PWLGB: Where do you see yourself in 5 years?

FS: "With one or two or three more novels written, in process of being
published, or in the idea stage. I'm focused on writing, but I also
want to do quality work and not waste people's money or time on
something hastily put together. Let's see, property, family,
fulfilling work, maybe not working a day job. But jokes aside, and
aside from writing, I see myself continuing to make a difference in
the lives of others -- through my work helping students and activists,
being involved in political causes, involved in social justice and
equality organizations. In the Jesuit education tradition, we're
taught to use our lives for the betterment of others, to help others
realize their excellence, and to be leaders with compassion. I hope
that I am a conduit of those ideals."

PWLGB: What advice would you give aspiring authors?

FS: "One, I'd say take classes, or if you can't afford to, get into a
writers workshop with both published and unpublished writers. Be open
to feedback, have an ego or confidence, but also be willing to put
that ego and confidence aside to be the best writer and master of the
craft that you can be. The teachers of classes often have connections
you'd never dream of, or have access to, so it helps to befriend your
writing teachers and take them seriously. Find support for your dreams
from those who will believe in you. Unfortunately, in many communities
of color, we can't always find relatives, friends, etc... who support
dreams and aspirations outside of what they know. So if the support
isn't at home, put up an ad, take a class, write to your favorite
author, anything to find a supportive ear or shoulder. Read, but don't
just read within your comfort zone or the same kind of work over and
over. Before I took fiction classes, I generally read from one genre
of work, but discovered there are other great writers, with styles I
never even thought of, out there. Learn about people who are not like
you because it'll help your work be more inclusive. Try to write the
story that's not written -- explore and experiment, but make it high
quality -- so that you catch the eye and fanbase of those who
generally don't get written about. Finally, you have to write. Even if
it means getting up at 3 am, or going to bed at 1 am, or using your
lunchbreak to write, or finding a summer writing retreat in the middle
of Vermont or North Dakota with tons of quiet time and space, you have
to do it. I think the only difference between aspiring and published
authors is focus and determination to keep the main thing the main
thing."

PWLGB: What would you like readers to learn from your stories?

FS: "That ordinary people make for good fiction. That whatever categories
we use to consider people "different" are the categories that make for
good stories. And those "differences" don't have to be stereotypes.
There's good and bad, support and challenge, in all communities, and
those variances make for good characters and stories."

PWLGB: Are you working on another novel? What is it about?

FS: "I'm working on a few novels. Since the publishing thing, I've started
three novels, gotten to about page 100 or 150 in each one, and then
got focused on one that's going to be my next novel I present to my
agent and editor. Don't want to give too much away, but one project is
a continuation of DOWN FOR WHATEVER, though I'm not a big fan of
sequels. I'm like, if there's more to add then just put it in the
first novel. But I think there's enough uumph in DFW for another
story. I'm also working on a novel set in a college setting in Los
Angeles. And working on a novel that explores romance among couples
with major MAJOR differences -- education level, age, class,
upbringing, etc... The major theme everyone will find in my work is a
commitment to inclusion, telling authentic stories about various
communities, and making sure that if there are stereotypes explored
that there are equally strong characters to counter those stereotypes.
But it's always going to be fun, worthy of your time and money, and
educational at the same time. Think of my work as a vitamin-stuffed
Twinkie. You get knowledge with the fluff, I guess."

PWLGB: Where can people purchase your books? Do you have a website?

FS: "Yes, my website is www.fredericksmith.net. Don't get me mixed up with
Fred Smith, the Fed Ex founder/CEO guy's website... unless you're
sending me his check, lol. You can sign up for my e-mail list and
check out my blog link through the site. But DOWN FOR WHATEVER can be
found in all independent and major bookstores, as well as on all the
online booksellers and book clubs, and on Kensington's website
www.kensingtonbooks.com."

In conclusion...
"Thank you so much for taking the time to meet and greet with me. Book
clubs are so important for readers and aspiring authors, because they
bring people together for something most people don't do anymore --
reading. I hope you all encourage your kids and family members to
read, that you buy books and not just pass them along to each other,
and to send notes and e-mails (kinds ones, not crazy ones) to your
favorite writers. We, and our agents and editors, like to know someone
out there is touched, in positive and negative ways, by our work."

Best,
Fred

Read a Good Book Today!!